Women with beautiful breasts always make women envious, men's attention. Breast beauty is also fragile, according to authoritative medical statistics, there is one death every 13 minutes in the world of breast cancer, and 99% of women. Breast cancer in China has become the number one killer of urban women. Beijing, Shanghai, Guangzhou and other cities with a higher incidence and age of onset gradually younger. Breast for women, is about health, more about life, women's attitude towards the breast, can not stop at the United States, but also to love.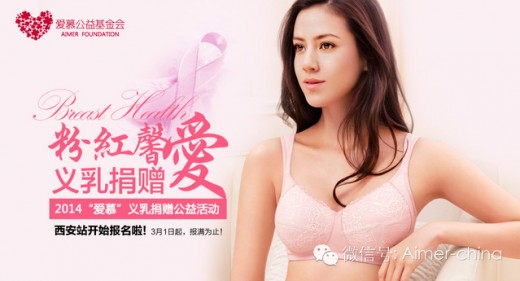 Love as a leading brand of Chinese underwear , has always been to "create the United States, passing love" to provide consumers with beautiful, comfortable products as their responsibility. In order to enable women after resection of breast disease to take advantage of professional and comfortable underwear to regain their confidence and natural body, so that they can be comforted and loving souls. 2014 Amoy Foundation "Pink Xin Ai" Invited Xi'an beneficiaries.

In order to receive more care for the female friends in need of help, we have the following minor requests to the recipients:
1, complete hemangiomas resection surgical incision complete healing of women (recommended after surgery for 3 months);
2, women who continue to wear bra to participate in social activities (working women who continue to work are preferred);
3, from March 1 to March 7, successfully download and submit the application form. And promptly answer the phone, the successful appointment of test time;
4, in the March 8 - March 18 period, at the appointed time to Xi'an, the adore designated counters accept the body side;
5, because places are limited, those who meet the criteria on a first come, first served basis, such as the three telephone contact, the quota will be assigned to the next applicants.

If you have a friend around you who is interested in breastfeeding, kindly ask her this information and wish her a chance to get a lucky free gift from this charity foundation!

Registration information
Registration time: March 1, 2014 from the full date.
Registration Form: Click on the official home page to download the application form. http://
Registration Form Email: [email protected]
QQ:

Body Location:
Xi'an Bell Tower Kaiyuan mall three love counters Tel:
Xi'an South Second Ring Road, the second floor of Cade Xindian love family life Museum Tel:

Woven Non-Fusible Interlining is a kind of weaving fabric .After bleaching ,and use chemical material to make the fabric soft or hard ,thin or thick . This kind of interlining can be used in all kinds of garments ,bags ,shoes and so on .It can imporve the base fabric thickness ,hardness .It also be called as the skeleton of the garments .

It can be a lot of color ,like white ,black ,red ,green and also can be do all kinds of touch ,soft ,medium ,hard ,very hard .

It can be divided to some types according to the fabric yarn count and construction .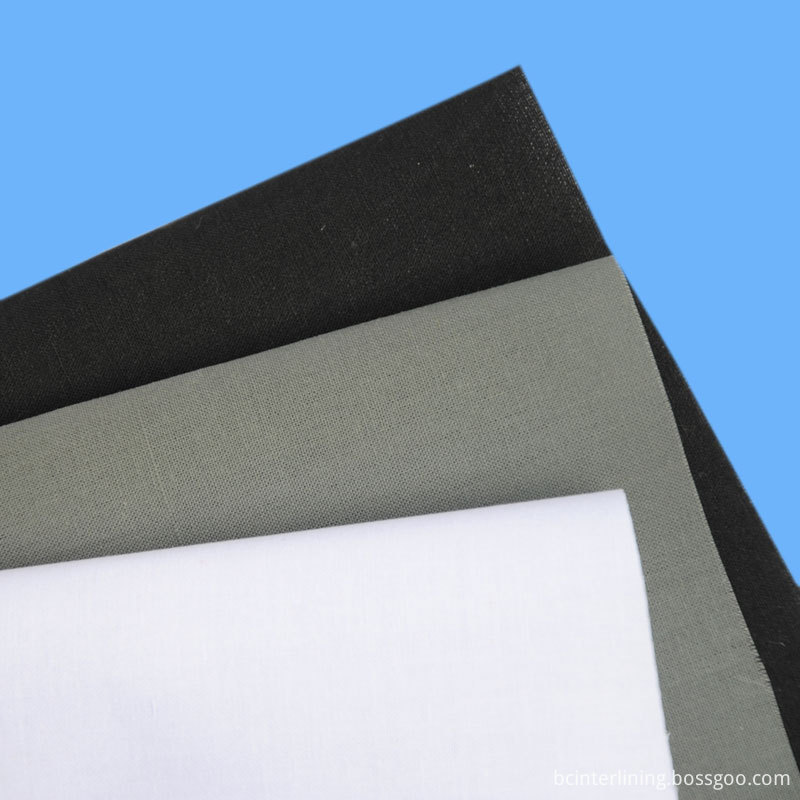 Woven Non-Fusible Interlining

Woven Non-Fusible Interlining,Soft Non-Fusible Woven Interlining,Hard Handfeel Non-Fusible Interlining

Baoding Garment Interlining Factory , https://www.bcinterlining.com