Brother brother in recent years, the application of market segmentation strategy more successful one of the clothing brand , over the age of 30 this age women pay attention to the quality of life, the need for decent and beautiful clothing, but the traditional dress concept and body constraints will They are out of fashion and fashion brands, and they are precisely the solid strength of consumer groups. Brother Secrets of the success of the ladies lies in the solution to these people's clothing problems.

In China's clothing market, Brother brother women's "Confucian culture" as the brand connotation, with its accurate target market positioning and occupy a place in the domestic women's clothing industry. Brother brand is not the price of two, the color of flowers and not whistle, the price is high and inexpensive, tailoring and not tight, completely aligned with the backbone of these consumer "appetite." Determined to insist on the persistent support, brother brother women will be a large number of loyal customers to solicit around them, a fixed source of consumer support from the market position, no matter how harsh the market environment, the customer's constant support for its shelter rain.

Brother brand success is an important reason for the market segmentation strategy properly selected, most of the other brands in the product positioning of young people who make a fuss about the fierce competition, Brother brother targeting middle-aged white-collar workers in this backbone market, from clothing Design, marketing network to image design are enough articles, which also won the favor of consumers in this age, and women's sales in the country has been among the best.

Brother apparel following the landing Lynx (formerly Taobao Mall) and the establishment of B2C Brotherhood official mall, then landed Jingdong Mall. For a long time, a large number of brothers in the online apparel cottage counterfeit goods, purchasing clothes in Taobao cottage has reached more than 90,000 pieces.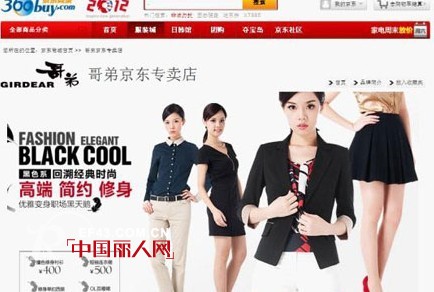 Brother brother Jingdong store is one of the designated shopping mall brother ladies, will uphold the consistent style brother ladies, Shuya fashion style design, professional and simple tailoring, personalized taste, is committed to let the Chinese fashion consumer groups, exclusive Fashion, brand, quality, price, quality of life and the trend of shopping experience, a boutique fashion shopping site.

Brother brother Jingdong store sales style and Tmall brother official flagship store, brother brother the same style of the official mall, are Brother clothing designed specifically for online sales, and the line shop is different. Brother brother is also constantly increasing investment in e-commerce.

Brother brother Jingdong store's commitment to service:

1) Authoritative: Brother authorization, a penalty hundred

2) Brand Services: Brother brother Jingdong store to provide genuine brother brother

3) Quality Assurance: issue a shopping invoice

This kind of Functional Fabric is usually treated by coating,PU or PVC. The special functions usually include flame retardant,waterproof,oil proof,anti-static,anti-mosquito,hygroscopicity and quick drying,easy-care,antibacterial,anti-UV,infrared retardant,etc.Normally,this kind of fabric can be used for bags, vest,tent,etc.

Pu Coated Fabric,Pu Fabric,Polyurethane Coated Fabric,Pu Coated Polyester Fabric

Zhejiang Xinjian Textile Inc.Ltd , https://www.zjxjtex.com