Leading Words: On the T stage of autumn/winter 2013, women's power is returning. Herringbone wool, woven elastic fabrics and other seemingly calm and nostalgic menswear fabrics have replaced the extremely feminine fabrics such as soft red leather and wool in recent years, giving more positive energy to women nowadays. Seasonal fashion girls create a more sturdy, modern female image.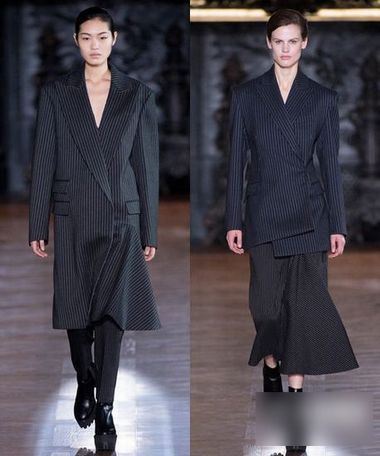 Stella McCartney's 2013 opening supermodel Saskia de Brauw was dressed in a navy blue straight-striped suit—the suit was a special asymmetrical cut, the trousers were nine-pointed trousers, and the feet were thick-soled leather boots. Woolly blue, charcoal grey, ivory, or plaid woollen fabrics have been given an experimental tailoring, Pioneer Japanese-style hustle and bustle silhouette, a Stella McCartney girl's unique ease, comfort and coolness. Immediate release...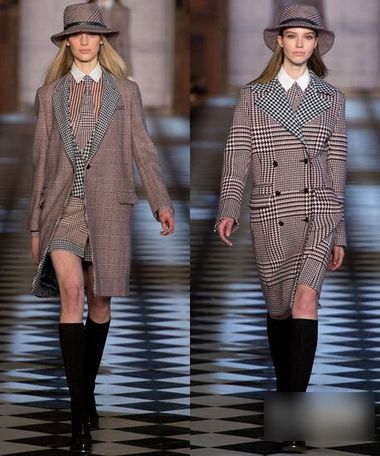 Tommy Hilfiger Fall/winter 2013 If you love the college style and love the look of girls' suits, then Tommy Hilfiger's show must not be missed. Autumn and winter 2013, designer Tommy Hilfiger was inspired by another "Tommy" - the famous menswear designer Tommy Nutter in the history of Savile Row in the United Kingdom. Welsh plaids, houndstooth or texture, or clever splicing to create a full British Academy feel, and the leather material to recreate the sweater pattern and classic diamond pattern is a highlight of the season's innovation .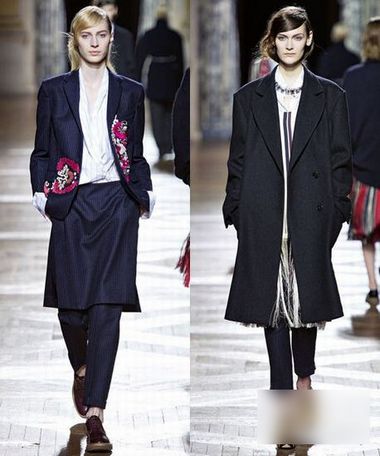 Dries Van Noten 2013 Dris Van Noten 2013 Autumn/Winter Womenswear Show organized by the French government building in the 1880s was inspired by the dancers of the 1930s, Fred Astaire and Ginger Rogers. "With men's tailoring, men's fabrics and feminine decorations," the designers let these two opposing elements combine freely, and achieved a sense of fashion that DVN girls have come to know.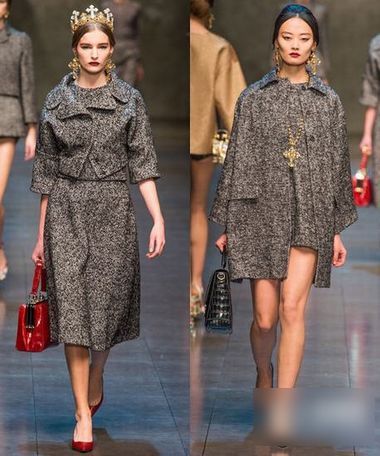 Dolce & Gabbana 2013 autumn and winter designers Domenico Dolce and Stefano Gabbana in autumn and winter of 2013 are still inspired by their favorite hometown of Sicily, but this season has become more of a number of - Sicilian Monreale cathedral golden mosaic religious patterns, Dolce & Gabbana 2013 autumn and winter Women's shows We look at the Catholic Church from a romantic perspective. Finally, the gorgeous line-up of the red supermodel fish can not help but sigh, that the magnificent Dolce & Gabbana Empire is still.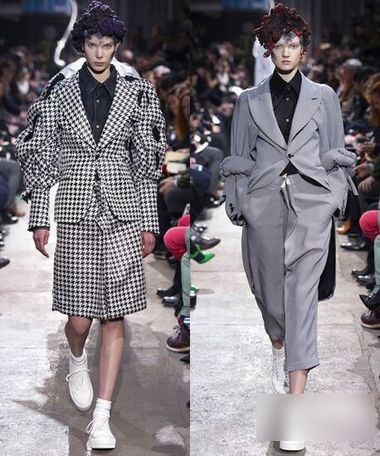 Comme des Garcons 2013 autumn and winter is like the meaning of the "Comme des Garcons" brand name "like a boy". Kawakubo will use common fabrics in men's clothing such as pinstripes, wide stripes, detailed checkers, and houndstooth. Patterns, used in their own couture designs, with a variety of complex patterns, combined with layered structures and reorganized 3D "fragmentation" tailoring, are also a challenge to your vision. The circular three-dimensional folds cleverly combined into a rose shape is exactly the unique art that Kawakubo Ling contained in the idea of ​​completely breaking through the conventional.




Weihai Xinghaiyuan Fishing & Netting Tackle Co.,Ltd. , https://www.yesonagri.com